Figures
Vehicles
MASK related stuff
Links
Hello everyone! This is the major update I have given to this page in a long time!
For those of you who asked, I'm out of Volcanos, sorry. But I do have a lot more
MASK toys for sale! I'll post them here soon.
But first, I will add a new page, the figures page. Check it out, it will feature almost
all the figures that came in the line. It helps in identifying them.
Next, the misc page, mask stuff will be in there, a new home for the board game.
Finally I'll gradually increase the vehicles page, and divide it in a more readable way.
.
---
MASK Boulder Hill Playset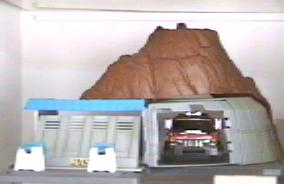 Innocent service station becomes an awesome, battle-ready bunker
with break-apart wall and anti-gravity howitzer. Staffed by computer expert
Alex Sector with Jackrabbit mask and mechanic Clutch Hawks with Penetrator mask.
Mine is missing one of the walls, hoses, sign, and boulder. If you have any of these,
contact me.

---

MASK Thunder Hawk Vehicle